Other Topics
Get the Latest News and Insights From MHQP
Sign up for our emails for access to our initiative announcements, insights, and informative data.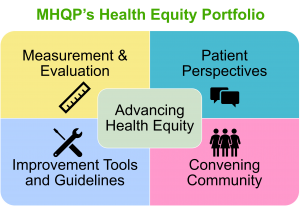 The COVID-19 pandemic has shone a harsh spotlight on the disparities in access and outcomes that exist in our healthcare system for patients from historically underserved communities. The pandemic has been devastating for all communities, but it has hit communities of color especially hard. Black patients have been three times as likely to be diagnosed with COVID-19 and two times as likely to die in comparison to their white counterparts. Health disparities of this magnitude are not new. Researchers have long been aware of health disparities affecting underserved communities for many noncommunicable diseases such as breast cancer, prostate cancer and colorectal cancer. But the pandemic has brought these problems into mainstream consciousness.
When MHQP's Board of Directors met in June 2020 to discuss the organization's strategic direction, the Board overwhelmingly endorsed making the advancement of health equity one of MHQP's strategic imperatives. Soon thereafter, we formed a Health Equity, Anti-Racism Workgroup to identify directions for MHQP to systematically move towards health equity and justice, and to eradicate inequities in health outcomes and experiences. The Workgroup has recommended two priority areas for MHQP:
Improve our understanding of how best to capture Race, Ethnicity, Language and Disability (RELD) data, with a particular focus on understanding patients experiences with being asked about RELD to better understand barriers to data collection; and
Improve our understanding of how we can advance equity and access of telehealth
MHQP is uniquely positioned to help advance all aspects of the health equity agenda depicted above. We have a long history in measurement and evaluation, convening stakeholder groups, raising the patient perspective, and creating improvement tools and clinical guidelines. While we understand that this issue is deeply-rooted in longstanding and systemic biases, we are determined to advance health equity to ensure that everyone has the chance to be as healthy as possible.
Here is a list of the posts on this site related to MHQP's health equity activities: