MHQP Launches Initiative to Create Statewide System for Measuring Racial and Ethnic Disparities in Patient Experience
(August 2022)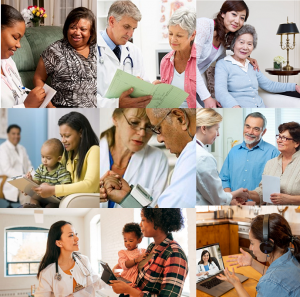 MHQP has launched a major initiative to create a consistent and effective approach to measuring racial and ethnic disparities in patient experiences in Massachusetts. We are currently seeking to recruit provider organizations and health plans to participate in a statewide effort to address this critical issue.
Our aim is to broker consistency in health equity measurement throughout the state to enable valid comparisons and fair use of the data for high stakes purposes. To that end, we will be bringing stakeholders together to jointly determine key principles for measuring equity in patient experience.
"The racial and ethnic disparities that patients report in their experiences of care are unacceptable," said MHQP's CEO, Barbra Rabson. "This is our opportunity to come together to gain a collective understanding of why these disparities are occurring and how to best measure them – and, most importantly, to work together to eradicate them."
Rabson also wrote about this effort in a recent blog post on MHQP.org.
MHQP has been measuring patient experiences of care across Massachusetts for more than a decade. We do this primarily through our annual Patient Experience Survey. The only statewide survey of patient experiences in Massachusetts, it is an invaluable resource for practices and policymakers because it offers statewide and regional benchmarks and comparisons with peer practices across Massachusetts.
We plan to expand this established and proven instrument to include content directed at health equity concerns. This will generate a deep understanding of why disparities in patient experience exist, what the drivers are, and how we can best collectively address them.
Provider organizations who participate in the effort will be able to:
Publicly demonstrate their commitment to improving health equity in Massachusetts
Have an active voice in selecting survey questions to be used in the analysis of racial and ethnic disparities in patient experiences across the state through a series of Stakeholder Workgroup Meetings to be convened by MHQP this coming fall/winter
Help determine appropriate methods for reporting results across different systems
Receive datasets and reports for their organization's results across all patient experience categories
Participate in a statewide Learning Collaborative in the fall of 2023 to implement best practices for reducing disparities
"Massachusetts has always been a pioneer when it comes to healthcare innovation," said Jim Roosevelt, MHQP's Board Chair. "We can lead the nation by proactively addressing racial and ethnic disparities in patient experiences, but only if we do it together."
MHQP is in the process of reaching out to provider groups and systems to solicit participation in this groundbreaking initiative. If you would like more information about this program, please contact Amy Stern, PhD at astern@mhqp.org.