Welcome Karina Santamaria, New Director of Research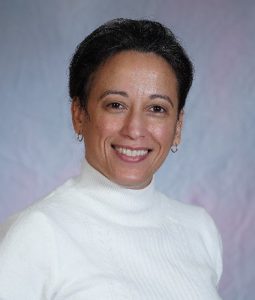 (May 2023)
"My plans were to go to medical school, but then I found this whole other world of solving health problems. I've learned there are many different roads to get to an endpoint."
That's how Karina Santamaria, MHQP's new Director of Research, describes the evolution of her career path that led her to research.
The youngest of six siblings, Karina immigrated with her family to New York City from the Dominican Republic when she was ten years old. She spent her formative years between Washington Heights and the Bronx, areas hard hit at the time by the crack epidemic and the AIDS crisis.
"I saw a lot as a child — the drugs and violence on the streets,  I was exposed to a lot of things," she recalls.
Karina earned her BA in Psychology from City College of New York. After graduation, she was hired as a Research Assistant at the HIV Center for Clinical and Behavioral Studies at Columbia University. There she supported ongoing research following children in New York City who had been born with or perinatally exposed to HIV.
"So there I was, just out of college, and I was interviewing kids with HIV and their caregivers," she says. "I was talking to kids who had been born in the communities that were now my own and shaped me as a teenager.  I was old enough now to reflect back to those earlier times and fully understand what was going on."
Karina says this experience helped her learn and appreciate the value of research and how it can impact communities. She ended up staying at the HIV Center for several years, advancing ultimately to the position of Research Director. Along the way, she earned her MPH in Community Health and Health Equity from the CUNY School of Public Health.
"I was overseeing the research and how it was implemented, managing research staff in the field, and sometimes going out there myself. I think you supervise better when you put yourself out there and understand what your team is going through," she says.
At this point, Karina decided it was time to fully commit to a career in research, so she applied to PhD programs, landing ultimately at the Brown University School of Public Health. She will defend her dissertation in Behavioral and Social Health Sciences this coming summer. Her studies use various multivariate data analysis techniques to examine psychosocial predictors of daily pre-exposure prophylaxis (PrEP) use for HIV prevention among men who have sex with men.
Karina is now excited to join the MHQP team. Karina's work will include developing new research projects, overseeing quantitative and qualitative data analyses, and publishing research results.
"I wanted to branch out into other areas of healthcare research while keeping a focus on the issues that affect historically underserved populations," she says. "MHQP is a perfect intersection of my professional and my lived experiences. It's hard to love what you do if there's not a personal commitment and passion behind it."