A Statewide Initiative to Measure Racial and Ethnic Disparities in Patient Experience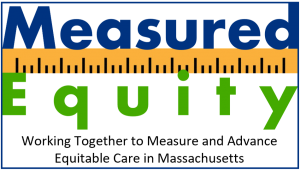 A key strategic priority for MHQP is the advancement of health equity. Our unique position as a multi-stakeholder collaborative enables us to bring together Massachusetts healthcare leaders across organizations to create a comprehensive statewide system for consistently measuring, understanding, and reducing racial and ethnic disparities. We are calling this initiative  Measured Equity.
This critical effort is well underway, leveraging MHQP's statewide Patient Experience Survey as a platform. In collaboration with our participating partners, we revised the survey to capture a range of demographic and social determinants of health data which will facilitate the stratification of the data by race and ethnicity and enhance our ability to better understand disparities in care. We are also working with the Cambridge Health Alliance Health Equity Research Lab to determine how best to account for social risk to allow fair comparisons performance across organizations. This will enable participating organizations to compare their data against peer organizations and gain valuable insights to target improvement efforts.
Our goal is to secure the participation of as many payer and provider organizations as possible so that all stakeholders can jointly determine key principles for measuring disparities in patient experience, better understand the drivers of these disparities, and collectively determine how to address them.
"Some challenges in healthcare are so big that they can be solved only through collaborative action across organizational lines. Health equity is just such a challenge."

– Barbra Rabson, President and CEO, MHQP
Measured Equity will enable providers, payers, and policy-makers to monitor the effectiveness of health equity efforts across organizations in Massachusetts. Participating organizations will be able to compare their data against peer organizations and gain valuable insights to target improvement efforts. We plan to begin incorporating race and ethnicity data into our public reporting in 2025.
Why Is This Important?
We can no longer ignore the systemic racial and ethnic disparities in patient experiences that plague our healthcare system. Organizations across the state are taking action to address these disparities, but these complex issues can only be effectively addressed by working collaboratively across organizational lines, not in organizational siloes.
MHQP has a long history of catalyzing collaborative measurement between stakeholders in Massachusetts healthcare to help tackle complex challenges such as this that none can solve alone. That's why we have launched a new statewide initiative we are calling Measured Equity.
Measured Equity will consistently measure and report racial and ethnic disparities in patients' experiences across the state, establishing a shared measurement and reporting system that will allow participants to identify the systemic issues driving disparities, compare performance across organizations, focus on best practices for organizational improvements, and track progress over time.
The results of MHQP's 2022 Statewide Patient Experience Survey, stratified by race and ethnicity, reveal extensive disparities in how Asian, Black, Hispanic and White patients experience healthcare in Massachusetts. These disparities are simply unacceptable and we must do everything we can as a collective, concerned community of leaders to fix this situation.
Why Focus on Patient Experience?
Feedback from patients about their experiences provides an authentic view of how patients are actually treated in the healthcare system, allowing us to dive beneath the surface to a deeper understanding of the drivers of disparities to inform interventions. What's more, because positive patient experiences are associated with important clinical processes and better outcomes, a deeper appreciation of how patients experience healthcare is an essential foundation for addressing disparities across all health outcomes.
If your organization is not already participating, this is your opportunity to help drive a collective effort to reduce disparities for patients in Massachusetts and "raise all boats" to truly advance health equity across the state. For more information about Measured Equity, please contact Natalya Martins, MPH, MHQP's VP of Programs, at nmartins@mhqp.org.