MHQP Data Spotlights the Troubling State of Pediatric Care in Boston Globe Article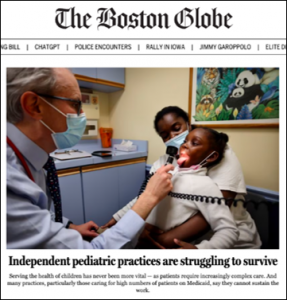 (June 2023)
An article by Jessica Bartlett in this past Sunday's Boston Globe asserts that "independent pediatric practices are struggling to survive." MHQP is pleased to help bring attention to this critical issue by providing data cited by the author.
The article focuses on Middleboro Pediatrics, an independent practice located in Lakeville, Massachusetts, which has been awarded an MHQP Patient Experience Award for pediatric preventive care in three of the past four years, based on the responses to MHQP's annual statewide patient experience survey.
By all apparent measures, Middleboro Pediatrics is a highly successful practice, widely respected and appreciated in its community and beyond. And yet, below the surface, the dedicated and compassionate caregivers who embody Middleboro Pediatrics harbor significant concerns about the practice's ability to sustain itself in today's challenging environment for primary care.
The leader of the practice is Dr. Aaron Bornstein, whose father, Dr. Neal Bornstein, founded the practice in 1977. When Dr. Bornstein learned about the Primary Care Dashboard MHQP launched earlier this year in partnership with the Massachusetts Center for Health Information and Analysis (CHIA), he reached out to MHQP to raise his concerns and ask for help in sounding his alarm bells. We have been working with Dr. Bornstein since then to draw attention to the current troubling state of primary care in Massachusetts, especially as it relates to pediatric practices.
Also, as the stewards of the Massachusetts Provider Directory (MPD), the only valid data source that maps primary care and specialty providers in Massachusetts to the practice site, medical group and network in which they provide care, MHQP was pleased to be in a position to provide data that supported this article.
If you subscribe to the Boston Globe, you can click HERE to read the article.