Winners of MHQP's 2022 Patient Experience Awards Provide Best-In-Class Experiences Despite Growing Challenges for Primary Care
(February 2023)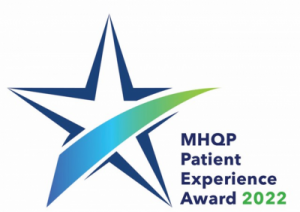 Primary care practices are facing unprecedented challenges in the wake of the pandemic due to staffing shortages, inadequate reimbursement policies, changing patterns of well visits, practice consolidation, increased competition from new sources, and many other factors. Despite these challenges, the winners of the 2022 MHQP "Patient Experience Awards" found a way to rise above the rest and provide best-in-class patient experiences to their patients.
MHQP will be celebrating the winners of this annual award at a virtual event on February 16, 2023.
MHQP introduced this award program in 2018 as a way to recognize the primary care practices that perform highest on its annual Patient Experience Survey, the only statewide survey of patient experience in primary care in Massachusetts. The 2022 survey was fielded in the spring of 2022, sampling commercially insured patients. Results were collected for 474 adult and pediatric primary care practices across the state, representing over 3,300 primary care providers. These results were used to identify the top overall performing adult primary care and pediatric practices from across the state in nine performance categories:
Patient-Provider Communications
Coordinating Patient Care
How Well Providers Know Their Patients
Assessment of Patient Behavioral Health Issues
Ease of Access to Care
Empowering Patient Self Care
Office Staff Professional Excellence
Pediatric Preventive Care
Assessment of Child Development
MHQP is also recognizing the practices that achieved the greatest improvement in a performance category in the past year.
"It is not easy for a primary care practice to thrive in the current environment," said Barbra Rabson, MHQP's President and CEO. "We are thrilled to congratulate each of them on behalf of their patients for their exceptional commitment to excellence."
"Primary care is the heart of healthcare in Massachusetts," said Jim Roosevelt, MHQP's Board Chair. "The practices from all across the state recognized with this award have distinguished themselves where it matters most – in the experiences of their own patients."
MHQP offers its hearty congratulations to each of the winners listed below along with the category(ies) in which they are receiving awards:
ADULT CARE PRACTICES:
Baystate Medical Practices – Northern Edge
Office Staff Professional Excellence
Berkshire Internists
Assessment of Patient Behavioral Health Issues
Beth Israel Deaconess Healthcare – Family Medicine of Brookline
Patient-Provider Communications
Brigham and Women's / Harbor Medical Associates, Scituate
Patient-Provider Communications
Brigham and Women's Primary Care Associates of Norwood
Office Staff Professional Excellence
Brigham and Women's Primary Care at Newton Corner
Assessment of Patient Behavioral Health Issues
Chair City Family Medicine
Coordinating Patient Care
Compass Medical – East Bridgewater Family Medicine
Office Staff Professional Excellence
Compass Medical – Middleborough
Most Improved for Empowering Patient Self Care
Dedham Medical Associates – Norwood
Most Improved for Assessment of Patient Behavioral Health Issues
Family Medicine North
Empowering Patient Self Care
How Well Providers Know Their Patients
Family Medicine at UMass
Patient-Provider Communications
Grove Medical Associates
Ease of Access to Care
Internal Medicine Associates Team 1
Empowering Patient Self Care
Coordinating Patient Care
Manet Community Health Center
Patient-Provider Communications
Mashpee Primary Care
Most Improved for Empowering Patient Self Care
Mass General Primary Care Assembly Row
Office Staff Professional Excellence
Newton Wellesley Physicians, Primary Care – Weston
Patient-Provider Communications
Office Staff Professional Excellence
Newton Wellesley Primary Care
Coordinating Patient Care
How Well Providers Know Their Patients
Ease of Access to Care
Orchard Medical Associates
Office Staff Professional Excellence
Personal Physicians Health Care
Ease of Access to Care
Steward Medical Group – Primary Care of North Andover
How Well Providers Know Their Patients
Valley Medical Group – Easthampton Health Center
Office Staff Professional Excellence
Weston Primary Care
Empowering Patient Self Care
PEDIATRIC PRACTICES:
Arlington Pediatrics
Ease of Access to Care
Berkshire Pediatric Associates
Patient-Provider Communications
Pediatric Preventive Care
Centre Pediatric Associates
Assessment of Child Development
Children's Medical Office of North Andover
Empowering Patient Self Care
Cove Pediatrics
Patient-Provider Communications
How Well Providers Know Their Patients
Drs. Gilchrist, Sevigny & Galvin
Office Staff Professional Excellence
Hanover Pediatrics – Healthcare South
Ease of Access to Care
Harding Pediatrics
Most Improved for the Assessment of Child Development
Holyoke Pediatric Associates
Most Improved for Coordinating Patient Care
Hyde Park Pediatrics
Coordinating Patient Care
Main Street Pediatrics
Office Staff Professional Excellence
Marion Pediatrics
Patient-Provider Communications
Assessment of Child Development
Medical Associates Pediatrics
Coordinating Patient Care
Ease of Access to Care
Middleboro Pediatrics
Pediatric Preventive Care
MVPediatrics
Patient-Provider Communications
Northern Berkshire Pediatrics
Office Staff Professional Excellence
Pediatric and Adolescent Medicine
Patient-Provider Communications
Pediatric Primary Care at UMass
How Well Providers Know Their Patients
Pediatric Professional Associates
Empowering Patient Self Care
Pediatric Preventive Care
Pioneer Valley Pediatrics – Longmeadow
Patient-Provider Communications
Pleasant Street Pediatrics
Patient-Provider Communications
How Well Providers Know Their Patients
South Shore Pediatric Associates – Healthcare South
Coordinating Patient Care
Swansea Pediatrics
Most Improved for Coordinating Patient Care
Tufts Medical Center Pediatrics
Assessment of Child Development
Wareham Pediatrics
Empowering Patient Self Care