MHQP Begins Annual Process to Update Clinical Guidelines with a Health Equity Focus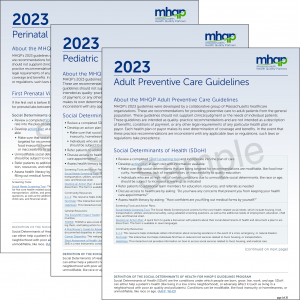 (September 2023)
It's a valued resource for some, but not known by many ― MHQP's Clinical Guidelines. Since 2001, MHQP has been helping to ensure all patients receive the same high standard of care through the annual publication of consistent, evidence-based, best practices guidelines for Adult Preventive Care, Pediatric Preventive Care and Perinatal Care.
Since 2020, MHQP's Guidelines have centered health equity, educating providers about the impact of racism and other forms of discrimination on health, highlighting the social determinants of health as key drivers of health inequities, and providing solution-oriented recommendation statements. Some of the changes we have made include:
Created a section on Racism, Discrimination, and Health, covering the impact of racism and discrimination on health, including definitions for systemic, interpersonal, and internalized racism, and exploring the relationship between racism, chronic stress, and health outcomes. This section also acknowledges the disproportionate discrimination faced by historically marginalized communities and considers intersections of identities. Additionally, it advocates for further research on health disparities and the collection of accurate health equity data.
Described race and ethnicity as risk factors within the complex interplay of healthcare access and other social determinants of health. This approach was extended to other unmodifiable risk factors like gender identity and sexual orientation.
Reviewed the risk calculators in the Guidelines and added disclaimers to highlight that race is a social construct, not grounded in biology, when utilized in calculations.
Ensured that, where relevant, sections include solution-oriented action statements and recommendations addressing the root causes of health disparities.
"MHQP's Clinical Guidelines have evolved into a vital resource, striving to ensure equitable healthcare for all," explains Natalya Martins, MPH, MHQP's VP of Programs, who has overseen the process of revising MHQP's Clinical Guidelines for the past few years. "They provide essential guidance and encourage a commitment to recognizing and addressing each patient's unique needs and challenges, ultimately fostering a healthcare environment that strives to eliminate disparities in health outcomes."
"We appreciate MHQP's leadership in undertaking this critically important work to incorporate the impact of racism on health outcomes into these guidelines because we know Boston residents of color suffer higher morbidity and mortality from several chronic conditions and cancers," says Dr. Bisola Ojikutu, Commissioner of Public Health and Executive Director of the Boston Public Health Commission. "This approach allows clinicians to more fully understand all aspects of risk in the delivery of clinical care for each patient."
Each year, MHQP assembles workgroups of clinical experts to review the Guidelines and recommend revisions. This coming year, the clinical workgroups will have the opportunity to extend our commitment to integrating a health equity perspective into the Guidelines to continue to raise awareness about how upstream social determinants significantly influence healthcare outcomes and disparities.
MHQP is currently seeking organizations to participate and join the clinical workgroups to shape these important Guidelines.  Please contact Natalya Martins at nmartins@mhqp.org if you are interested.