"The Failing Health of Primary Care in the US," a Podcast Hosted by Zeev Neuwirth and Featuring Barbra Rabson and Katherine Gergen Barnett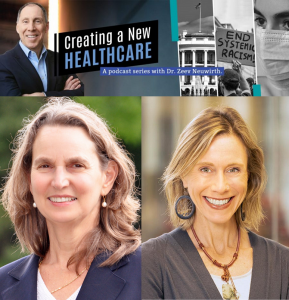 (June 2023)
Barbra Rabson, MPH and Katherine Gergen Barnett, MD have teamed up again to raise concerns about the state of primary care in Massachusetts and across the country, this time on a podcast hosted by Zeev Neuwirth, MD.
As Dr. Neuwirth's guests for episode #152 of his award-winning podcast series, Creating a New Healthcare, Rabson and Barnett share troubling facts and figures about the health of our primary care system. Neuwirth says he finds these statistics to be "startling." These concerns echo most loudly when, early in the interview, he asks Dr. Gergen Barnett how she would assess primary care if it were a patient of hers, and she responds that "It's on life support."
Rabson and Barnett also discuss the new Primary Care Dashboard MHQP launched earlier this year in partnership with the Massachusetts Center for Health Information and Analysis (CHIA). Dr. Neuwirth considers this "dashboard of vital signs" a "critical new step… in beginning to measure the health of primary care… and solving the primary care crisis in our country."
This is an important discussion for anyone who cares about primary care as the foundation of our healthcare system.
Click HERE to listen to the podcast.