Celebrating Barbra Rabson on her 25th Anniversary at MHQP
(May 2023)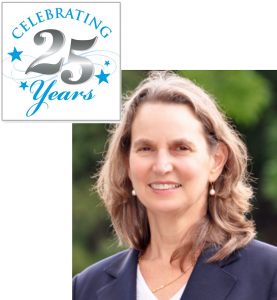 When Barbra Rabson joined MHQP as its part-time executive director in April 1998, MHQP was not yet an official organization. In fact, she started out as a contractor for the Massachusetts Hospital Association, which was serving as MHQP's incubator.
The concept of MHQP was born three years earlier, when the late H. Richard Nesson, then chair of the Massachusetts Hospital Association's board of trustees, had gathered a group of Massachusetts healthcare, business and community leaders to determine how to best respond to a damaging Boston Globe investigative story that rated Massachusetts hospitals based on mortality data.
"Dr. Nesson believed that Massachusetts hospitals would always be on the defensive if other people measured our quality, and that would look really bad to the public" Barbra recalls. "He believed we should measure ourselves and be accountable to the public."
The pioneering group that Nesson assembled had the wisdom to recognize they would need a neutral third party to credibly direct the statewide measurement efforts, including getting all stakeholders to agree to a common data set and a standard format for reporting. That was the vision that Barbra stepped into in 1998.
Road to MHQP
Barbra's road to MHQP was anything but direct. Fifteen years earlier in 1983, she had graduated with a master's degree from the Yale School of Public Health. After graduation, she worked at Middlesex Memorial Hospital in Middletown, Connecticut, before going to work for the Massachusetts Hospital Association. She spent a year at Beth Israel Hospital and then moved to a strategic planning role at Blue Cross Blue Shield of Massachusetts. A couple of years later, she was recruited to be the director of their Fraud and Abuse Unit. It was during this time that her first child, Lewis, was born, and she and her husband, John, started seeking a better life balance.
"The truth is I was just looking for a part-time job as a new mom," Barbra remembers.
She thought the job was also a good fit for her because it tapped into what she refers to as her "C Gene."
"I'm all about collaboration," she says. "I was really comfortable with the idea of working across different plans and providers."
And while she didn't have any experience in quality measurement work, Barbra had the advantage of knowing many of the key players in Massachusetts healthcare from her previous positions. She had also worked extensively with claims and data patterns in the BCBSMA Fraud and Abuse Unit. In fact, she remembers joking with Joe Newhouse, MHQP's founding Board Chair who hired Barbra, that fraud and abuse is at one end of the spectrum and quality care is on the other.
Early Days at MHQP
Barbra is grateful for the guidance and support of so many healthcare leaders throughout Massachusetts who helped get the organization off the ground and running in its early years.
Her primary focus in the beginning was the new statewide survey of patient experiences in acute care hospitals. Barbra's predecessor, Gina Rogers, had already completed the first cycle of the survey and the second cycle was underway when Barbra joined. The second cycle was when public reporting was happening for the first time for Massachusetts and for the nation.
Once that major milestone was complete, Barbra began to build an organization. MHQP's early team consisted of Melinda Karp, Janet Peluso and Janice Singer, in addition to a full-time project manager and part-time administrative assistant.
"We were a bunch of part-time working moms who appreciated the exciting work we could do on a flexible schedule. So that set the culture for MHQP from the very beginning," she says. Barbra was especially grateful for this culture when her second child, Elisabeth, was born, a few years later.
Expanding Impact
MHQP was officially incorporated as a non-profit in 2000. Over time, the organization grew in size and influence, as the team expanded its focus, moved into its own space, and landed some major grants.
"Harris Berman, one of MHQP's early Board chairs, was a strong advocate for MHQP to become incorporated," Barbra recalls. "He believed MHQP would be able to 'do more good' than members were willing to fund, and if we were incorporated we could look to outside foundation funding to support MHQP's work."
Harris' vision turned out to be prophetic. In fact, MHQP has brought in more than $10 million in foundation grants to Massachusetts since it was formed. This approach became especially important when MHQP saw hospital measurement beginning to take hold on a national level and Barbra's team pivoted into the "wild west of ambulatory care," as she called it.
"It got to a point where we decided to push past what everyone was just willing to do and focus on some bigger ambitions," Barbra reflects. "A strong thread throughout MHQP's history is we'd be pioneers and then other people would start doing what we were doing, which is great. So, we would redirect ourselves and keep on moving."
Her team pursued two tracks in the ambulatory space: patient experience and clinical quality. Melinda Karp ran the patient experience track, working with research partner Dana Gelb Safran and supported by a grant from the Commonwealth Fund and Robert Wood Johnson Foundation (RWJF) to design and conduct the survey.
On the clinical quality side, MHQP was able to land an RWJF grant called Rewarding Results in 2002. This drove the establishment of MHQP's clinical quality reporting and Massachusetts Provider Directory (MPD), a validated data source that maps primary care and specialty providers statewide to the practice site, medical group and network in which they provide care.
Truly Multistakeholder
With MHQP beginning to report on physician performance, it was a logical next step to establish the Physician Council to give physician leaders a voice and a role in MHQP's quality work. MHQP's Health Plan Council followed in 2007, and then MHQP completed its multistakeholder governance structure with the establishment of the Consumer Health Council in 2011.
Putting the patient voice front-and-center has been a signature feature of MHQP ever since. Barbra credits Nancy Turnbull, MHQP's second board chair, with pushing MHQP in this direction early on.
"Nancy said she would take on the Board Chair role only on the condition that we added two consumer representatives to the board," says Barbra. "The opportunity to connect all these voices is what makes MHQP such a special and unique organization. We have so much potential to achieve more if we work collaboratively."
Measuring What Matters
Yet despite this optimism, Barbra is also quite cognizant of the steady forces that resist collaboration in healthcare. As an example, she points to MHQP's current efforts to bring stakeholders together to create a shared measurement system for health equity.
"Everyone agrees these racial and ethnic disparities are unacceptable and we have to address them," she says. "And we're all quick to act in our own siloes because action is really important. But how will each of us know if what we're doing is really having an impact? I'm confident that there is a better way to do this involving us all coming to the table to think about this together."
Ultimately, Barbra believes the best solutions for healthcare will come through collaboration, measuring what matters most, and from listening to patients.
"We should always focus on the patient," she says. "There's just so much noise in the system. But when we really listen to patient stories, patients are absolutely willing to tell us about the care they receive and what works and what doesn't. For example, we are learning so much about how we can reduce racial and ethnic disparities in patient experiences with primary care from comments that patients of color are sharing with us about how they are treated."
Agility and Tenacity
Looking back over her 25 years, Barbra is most proud about MHQP's agility and tenacity that has allowed it to stay relevant and continue to pursue its mission in new and exciting ways.
One recent day encapsulated Barbra's MHQP experience. On the same day that she led a panel on the importance of primary care at the New England Employee Benefits Council's annual summit, where she spoke about the fragility of primary care and highlighted the primary care dashboard MHQP developed in partnership with the Massachusetts Center for Health Information and Analysis (CHIA), Barbra also led a session focused on racial and ethnic disparities at the Massachusetts Senior Medicare Patrol's annual meeting, where she shared findings from MHQP's annual statewide patient experience survey.
"It made me proud of the impact MHQP is having in Massachusetts," Barbra beams.
We are all better off because Barbra Rabson chose 25 years ago to dedicate her personal agility and tenacity to improving the quality of patient care experiences. We thank her for her many contributions to this mission, for her visionary leadership, and her tireless pursuit of what's best for patients. And we congratulate her on this momentous anniversary.
Comments from MHQP's Board Chairs, Past and Present:
"Barbra took charge of a toddler organization and raised it to be a fully functioning adult.  In that process she greatly improved health care in Massachusetts. Hiring her was one of the best personnel decisions I ever made."

Joseph Newhouse, MHQP Board Chair, 1996-2002
"Persistence. Patience. Resiliency. Sincerity. Optimism. These are among the qualities that have made Barbra such an effective leader of MHQP for the past 25 years. Barbra believes deeply that healthcare can be better, and she knows that quality improvement is thoughtful, deliberate, complicated, and collaborative work. She has a gift for bringing and keeping people together for shared purpose and progress. Sustaining and strengthening a coalition like MHQP for a quarter of a century is a miraculous achievement, and a testament to Barbra's authentic leadership and wise stewardship."

Nancy Turnbull, MHQP Board Chair, 2002-2006
"Working with Barbra as a board chair was a rare privilege. It was a unique chance to work with an incredibly strong leader fully committed to healthcare improvement both in Massachusetts and nationally. Her ethics, her drive, her perseverance, her skill at coalition building and her history of accomplishment are what make her special. The length of her tenure at MHQP through times of major change and challenge in healthcare is a reflection of her passion and commitment to the work, her skill and adaptability, and the trust and respect that others have for her."

Stanley Hochberg, MHQP Board Chair, 2009-2013
"Barbra's leadership of MHQP over the past 25 years has been remarkably impactful on so many levels. In addition to building and maintaining a truly diverse multistakeholder coalition to improve the quality of care for all in Massachusetts, Barbra has been a leading voice in the national movement to promote transparency and patient-centered care through measurement. Twenty five years later, Barbra and MHQP are continuing to drive change through their work on health equity and the state of primary care."

Meredith Rosenthal, MHQP Board Chair, 2013-2018
"For 25 years Barbra, has focused on quality of care. She has led us all to understand that patient experience and provider experience are inextricably linked. Through times of great change and challenge, Barbra has guided us as we learn to listen to the patient and listen to the caregiver. In the best possible way, she has persisted. It is our great fortune that she still does."

James Roosevelt, Jr., MHQP Board Chair, 2018-present