MHQP Welcomes Partners on Statewide Initiative to Measure Disparities in Patient Experience
(November 2022)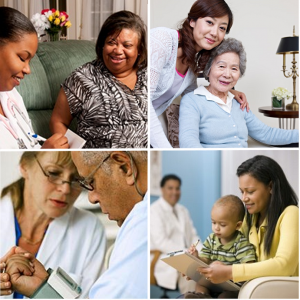 MHQP is excited to launch an initiative to measure racial and ethnic disparities in patient experiences across Massachusetts by utilizing the same instrument and methodology we have used to measure patient experience in the state since 2006.
Our aim is to broker consistency in health equity measurement throughout the state so that we can identify systemic issues that lead to these disparities and begin to look at best practices to drive improvements across organizations, not just organization by organization. This approach will enable valid comparisons and fair use of data for high stakes purposes.
We are pleased to announce our current partners for this groundbreaking work, and to celebrate their commitment to measuring and reducing disparities in care. Our current partners are:
Blue Cross Blue Shield of Massachusetts
Point32Health (parent company of Harvard Pilgrim Health Care and Tufts Health Plan)
Mass General Brigham
Tufts Medicine Integrated Network
Steward Health Care System
Health New England
We look forward to welcoming additional organizations to this collaborative effort in the near future.
MHQP will be convening a series of advisory meetings over the next few months to recommend modifications to MHQP's survey instrument directed at health equity concerns and measuring disparities in a fair and consistent way. Along with the partners listed above, MHQP will also be inviting several other stakeholders to join the meetings who can contribute important diverse perspectives.
This workgroup will be exploring the addition of new demographic questions that might help explain disparities, such as language spoken at home and social determinants of health. We will explore the possibility of including more nuanced ethnicity categories and offering respondents broader opportunities to share experiences related to the patient's personal characteristics.
As we have since 2006, MHQP will utilize our annual Patient Experience Survey to continue to collect data on performance across all health care systems in the state. Participating partners will have a voice in determining the appropriate modifications to the survey and will have access to comparable data to help drive improvement.
"Patients have lived with racial and ethnic disparities in their care experiences for far too long," says Barbra Rabson, MHQP's President and CEO. "We have an extraordinary opportunity in Massachusetts to leverage MHQP's statewide platform so that we can learn together as providers, plans, and patients."
"We are grateful to our partners for helping to drive this critical work forward," says Jim Roosevelt, MHQP's Board Chair. "By working together to construct a consistent way to measure and better understand these unacceptable disparities in experience, we will have a shared platform to effectively address them."