Study Finds Disparities in Telehealth Usage Since the Onset of the Pandemic
(November 2022)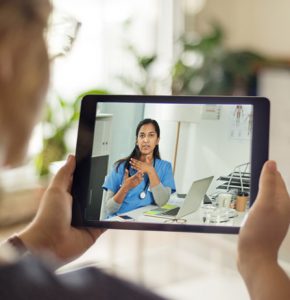 The Department of Population Medicine at the Harvard Pilgrim Health Care Institute, a Harvard Medical School affiliate, has released the results of a research study on telehealth use in the Commonwealth since the onset of the COVID-19 pandemic. MHQP supported the effort by collecting and analyzing qualitative interview data from members, providers and leaders in communities with disproportionately low rates of telemedicine use.
Findings from the report, which was funded by the Massachusetts Association of Health Plans (MAHP) and led by Alon Peltz, MD, MBA, MHS and researchers from the Department of Population Medicine, highlight that seniors, children and people who live in rural areas were less likely to use telehealth during the pandemic. Telehealth use was also lower in communities where fewer households have home internet access. The report makes recommendations on how to address these disparities in telehealth usage.
This report is the first in a series of steps that MAHP will undertake to provide comprehensive analysis, recommendations, and engagement of the health care community as it seeks ways to close identified gaps in the delivery and coverage of health care to the Commonwealth's residents.
Combining analyses of data from more than 1.8 million patients and over 35 hours of interviews with patients, providers, and community leaders, the study aimed to answer two key questions – how has telehealth use varied across populations and geographies, and what are the facilitators and barriers to equitable access to telehealth. The report found that telehealth greatly enabled access to primary, chronic disease and behavioral health care during the COVID-19 pandemic. However, uptake of telehealth was uneven across geographies with less use in rural areas and in lower socioeconomic status communities, although this difference was subtle for some visit types. People experiencing language barriers and financial hardships associated with costs of internet and mobile devices experienced lower telehealth access. Lower quality experiences with telehealth were associated with gaps in broadband infrastructure, digital affordability and in the usability of technological platforms.
"This study highlights how critically important telehealth has been to sustaining access to care during the pandemic while also shedding light on inequities in access across populations," said Dr. Peltz, Assistant Professor of Population Medicine at Harvard Medical School "We hope these findings will inform actions that health plans, providers, and policymakers can undertake to help support higher quality and more equitable access to telehealth across the Commonwealth."
"MAHP is excited to release the most timely and comprehensive report to-date of potential disparities in telehealth usage in Massachusetts, since the onset of the COVID-19 pandemic," said Lora Pellegrini, MAHP's President and CEO. "MAHP member plans are proactively working together to address the findings of the report, including eliminating identified barriers to equitable access to telehealth."
The report provides a series of recommendations, which health plans, in collaboration with providers and policymakers, can undertake to address digital health equity. These include 1) activities to advance digital inclusion across the Commonwealth, such as screening members for unmet digital affordability needs; 2) ways to eliminate structural and financial barriers to telehealth access, including continuing to provide access to telehealth and adopting simplified approaches to telehealth coverage; and 3) activities to help build system capacity to enable more inclusive delivery of care, including supporting the creation of state-wide technical, language translation, and inclusivity standards for technological platforms used for delivering telehealth.
"MHQP is proud to have contributed to this important work," said Nathalie McIntosh, MHQP's Senior Director of Programs and Research. "This report deepens our understanding of the current barriers to telehealth access and the critical role that primary care plays in facilitating that access. Anything health plans and policymakers can do to support equitable telehealth access, including encouraging people to have a primary care provider, would go a long way to mitigating disparities."
Access the report HERE.
Listen to a story about the study on GBH radio's All Things Considered HERE.  
Read a news story on WWLP.com about the study HERE.