Employee Spotlight: Raji Rajan
(November 2022)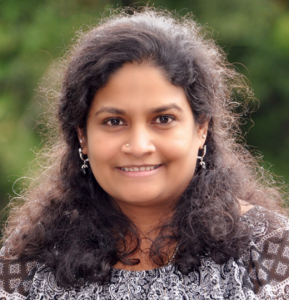 Raji Rajan, MBA, MS, and her husband, Raj, both decided to shift their careers to work in healthcare after the medical procedure that saved Raj's life. This was back in 2008. Raji was spending her days working as a Senior Software Engineer at Fidelity and her evenings helping Raj run their family-owned Indian restaurant in Framingham, when it became clear that Raj needed a kidney transplant.
"The waiting period for a kidney was seven years," recalls Raji. "Being a young mother and wife, I didn't want to wait that long. So, I said, 'I'm going to be the donor.' And thankfully, I passed all the qualifications."
She left her job, lost 50 pounds to qualify as a healthy donor, and underwent the procedure at Beth Israel Hospital in December 2008.
"After the transplant, we both kind of felt that we wanted to give back to healthcare because healthcare gave us his life. This was like our second chance in life," she says.
After recovering from the surgery, Raji took a new job as a Business Intelligence Developer at Boston Private Bank. Meanwhile, she enrolled in health informatics classes at Northeastern University and began acquiring certifications that would be helpful for a transition to a new career in healthcare.
"When you're a data person, wherever you work, technology is so vast that you're able to provide solutions," says Raji, who holds master's degrees in Business Administration from Clark University and in Applied Statistics from Worcester Polytechnic Institute. "And I wanted to contribute to healthcare."
A Great Match
Raji and Raj have been married since 1992. They met one week before their wedding, when Raji was 19 years old and living with her family in her hometown of Chennai, India. Raj was already living in the United States, having immigrated as a teenager.
"In our culture, when an eligible bachelor or bachelorette is in the market for marriage, the parents match the horoscopes to make sure that they have a long lasting marriage," says Raji. "We matched on eight of the ten components for a good marriage, which is very good. We've been happily married for 31 year now, so I guess it worked out pretty well."
Raji moved to the US after their wedding and the couple settled in with Raj's family in Northborough, Massachusetts. There they raised their son Arjun (currently 29) and daughter Aparna (currently 23).
As it turned out, Raji and Raj have been doubly blessed in their match.
"In our kidney transplant, the immunosuppressant match between us was four out of five," says Raji. "Raj takes much less medication compared to other transplant recipients because we had such a good match. It was a real blessing."
Coming to MHQP
Raji's first opportunity to contribute to healthcare came in 2015 when she joined MHQP as Associate Director of Reporting and Analytics. At that time, MHQP's signature program, the statewide commercial Patient Experience Survey (PES), was in a critical period of transition and Raji was tasked with documenting all the procedures and elements associated with this complex project.
She divided the production process into consistent cycles – contracting, analysis, dataset, report generation – and documented it all so that all team members were on the same page about what was being delivered and when.
"My goal was to help everybody understand the process," she says. "Now, we are able to trend the data across years and track where improvements or declines are happening across the system."
These efforts put MHQP in a position to launch the very popular MHQP Patient Experience Awards in 2018.
While about 50% of her time is spent processing and analyzing the data from the Patient Experience Survey, Raji also contributes to other all other MHQP projects with complex data needs. She prides herself on having the capacity to analyze data from multiple data sources, using multiple languages. The projects with extra-large datasets bring her the most satisfaction.
"In one project, we were dealing with claims data from five health plans over five years," she recalls. "We processed more than a billion records to compare costs between health plans and providers."
Raji was also instrumental in helping MHQP develop the capability to classify patient narratives using cutting-edge natural language processing software.
"Those are the types of projects that keep me going because somewhere along the line, you're hoping that you can solve a big problem and make a difference," she says.
Raji has certainly made a difference at MHQP.
"I can't imagine where we would be without Raji," says Jim Courtemanche, MHQP's Vice President of Programs and Analytics and Raji's supervisor. "Her passionate commitment to MHQP, her fearless technical expertise, and her always-positive attitude are true assets to our organization."