Stepping Out of Silos to Tackle Disparities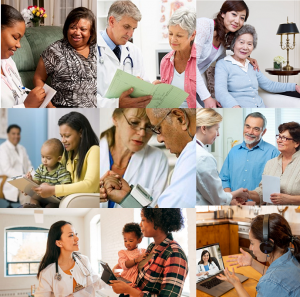 (September 2022)
Nearly 30 years ago, a Boston Globe Spotlight article highlighted "the worst hospitals" in Massachusetts based on high mortality rates. In the wake of that article, well before the measurement of healthcare quality was widely practiced and accepted, a forward-thinking group of healthcare, business and community leaders decided it was time to establish a shared measurement system and publicly report results to help drive improvement in the state's healthcare system.
These leaders knew this effort would only be successful if all organizations and stakeholder groups stepped outside their individual silos to collaboratively solve an issue that none could solve alone. They had the wisdom to understand they would need a neutral third party to direct the effort, which is how MHQP was born. Since that time, Massachusetts and MHQP have launched a number of "first in the nation" statewide quality measurement initiatives, which have helped earn Massachusetts healthcare its reputation as one of the best in the world.
Another Collective Challenge
Today, we are collectively confronted with another critical challenge. The pandemic has laid bare systemic racial and ethnic inequities in patient experiences of care. While we may not want to believe these injustices exist, we can no longer ignore them.
For example, earlier this year, an MHQP analysis of our annual statewide Patient Experience Survey results revealed that Black, Hispanic and Asian patients reported worse patient experiences with their primary care clinicians than White patients in every category of care. Our efforts to understand what is driving these results have led, at every turn, to more questions — such as why do Black, Hispanic and Asian patients have shorter tenures with their primary care physician and what role does this play in their reported experience?
Questions like these once again call for leaders of stakeholder organizations throughout the Commonwealth to rise above organizational silos to collectively address a shared issue. We have a common goal — care for all patients equitably — but we would each be hard-pressed to achieve that goal on our own. As before, we need everyone to be on board to find and implement the best solutions and to lead Massachusetts to a better place.
A Statewide Initiative
That is why MHQP has launched a major initiative to bring Massachusetts healthcare stakeholders together to collaboratively advance health equity through a consistent and effective approach to measuring racial and ethnic disparities in patient experiences. Consistency in health equity measurement throughout the state will enable valid comparisons and fair use of the data for high stakes purposes. We aim to jointly determine key principles for measuring equity in patient experiences, better understand why these inequities are occurring, and collaboratively develop a plan to eradicate them.
MHQP's annual Patient Experience Survey will be an invaluable resource in this work. The only statewide survey of patient experiences in Massachusetts, it already asks for self-reported race and ethnicity information, allowing us to bypass the data collection phase that most health equity efforts have as a starting point. Our plan is to expand this survey in 2023 to include content directed at health equity concerns.
It is critical that we have broad stakeholder input to help us determine the updated survey questions and the appropriate methods for reporting results across different systems. These are complicated issues which raise many important questions that should not be answered in silos. Together we can unpack the complicated combination of factors which lie beneath these issues and come to a common approach which can then be leveraged by individual organizations to drive health equity improvement initiatives.
Your Opportunity
We are currently recruiting provider organizations and health plans to participate in this effort and would like all stakeholder groups and organizations to have a voice at the table. This is your opportunity to help lead this work and to publicly demonstrate your organization's commitment to health equity in Massachusetts.
For more information about this initiative, please contact Barbra Rabson at brabson@mhqp.org.