MHQP Announces Winners of 2021 Patient Experience Awards
(January 2022)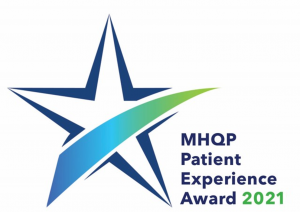 MHQP has announced the winners of the 2021 "MHQP Patient Experience Awards." MHQP introduced this award program in 2018 as a way to recognize the primary care practices that perform highest on its annual Commercial Patient Experience Survey, the only statewide survey of patient experience in primary care in Massachusetts.
The survey was not fielded in 2020 due to complications associated with the COVID-19 pandemic.
In 2021, MHQP received over 38,000 responses to this survey of commercially insured patients from across the state. The results were used to identify the top overall performing adult primary care and pediatric practices from across the state in nine performance categories:
Patient-Provider Communications
Coordinating Patient Care
How Well Providers Know Their Patients
Assessment of Patient Behavioral Health Issues
Ease of Access to Care
Empowering Patient Self Care
Office Staff Professional Excellence
Pediatric Preventive Care
Assessment of Child Development
The award winners will be celebrated at a virtual event hosted by MHQP on February 16, 2022.
"Although the pandemic continues to have an immeasurable impact on healthcare everywhere, the winners of the 2021 MHQP Patient Experience Awards found a way to rise above this crisis and provide best-in-class patient experiences during a very challenging time," said Barbra Rabson, MHQP's President and CEO. "We are thrilled to congratulate each of them on behalf of their patients for their exceptional commitment to excellence."
"Primary care is the heart of healthcare in Massachusetts," said James Roosevelt, Jr., MHQP's Board Chair. "The practices from all across the state recognized with this award have distinguished themselves where it matters most – in the experiences of their own patients."
MHQP offers its hearty congratulations to each of the winners listed below along with the category(ies) in which they are receiving awards:
ADULT CARE PRACTICES:
Auburn Medical Associates
Ease of Access to Care
Baystate Medical Practices – South Hadley
Assessment of Patient Behavioral Health Issues
Beth Israel Deaconess Family Medicine – Medfield
Patient-Provider Communications
Beth Israel Deaconess HealthCare – Dorchester
Empowering Patient Self Care
Beth Israel Deaconess Family Medicine – Brookline
Office Staff Professional Excellence
Beth Israel Deaconess HealthCare – Sharon
Assessment of Patient Behavioral Health Issues
Brigham and Women's Advanced Primary Care Associates – South Huntington
Assessment of Patient Behavioral Health Issues
Brigham and Women's Primary Care Associates – Longwood
Empowering Patient Self Care
Cambridge Health Alliance – Union Square Family Health
Office Staff Professional Excellence
East Bridgewater Family Medicine – Compass Medical
Coordinating Patient Care
Family Medicine Associates
Patient-Provider Communications
Fitchburg Primary Care Family Medicine
Patient-Provider Communications
Grove Medical Associates
How Well Providers Know Their Patients
Marlborough Primary Care
Office Staff Professional Excellence
MGH Charlestown HealthCare Center
Empowering Patient Self Care
Mystic Healthcare
Patient-Provider Communications
Newton Wellesley Primary Care
How Well Providers Know Their Patients
Orchard Medical Associates
Ease of Access to Care
Outer Cape Health Services – Harwich Port Community Health Center
Patient-Provider Communications
Personal Physicians Healthcare
Ease of Access to Care
How Well Providers Know Their Patients
Reliant Medical Group – Auburn
Patient-Provider Communications
Reliant Medical Group – Holden
Patient-Provider Communications
Reliant Medical Group – Westborough
Patient-Provider Communications
Southern Jamaica Plain Health Center
Patient-Provider Communications
SMG Brighton Primary Care
Patient-Provider Communications
Trinity Health of New England Medical Group – Westfield
Coordinating Patient Care
Valley Medical Associates
Patient-Provider Communications
PEDIATRIC PRACTICES:
Benedict UMass Memorial Pediatric Primary Care
Assessment of Child Development
Empowering Patient Self Care
How Well Providers Know Their Patients
Pediatric Preventive Care
Berkshire Pediatric Associates
Patient-Provider Communications
Cambridge Health Alliance – Broadway Health Center
Ease of Access to Care
Patient-Provider Communications
Children's Hospital Primary Care Center
Assessment of Child Development
Children's Medical Office of North Andover
Empowering Patient Self Care
Cove Pediatrics
Coordinating Patient Care
Crown Colony Pediatrics
Patient-Provider Communications
East Milton Pediatrics
Ease of Access to Care
Fairview Pediatrics
How Well Providers Know Their Patients
Harvard Vanguard Medical Associates – Cambridge
Office Staff Professional Excellence
Lynnfield Pediatrics
Office Staff Professional Excellence
Patient-Provider Communications
MACONY Pediatrics
Coordinating Patient Care
Milton Pediatrics – Braintree
Assessment of Child Development
North Shore Physicians Group – Rowley
Patient-Provider Communications
Patriot Pediatrics
Empowering Patient Self Care
Pediatric Associates of Greater Salem
Distinction in Young Adult Care for:
Coordinating Patient Care
Patient-Provider Communications
Pediatric Associates of Medford
Office Staff Professional Excellence
Pediatric Services of Springfield
Coordinating Patient Care
Ease of Access to Care
Pediatrics West
Pediatric Preventive Care
Pioneer Valley Pediatrics – Longmeadow
Coordinating Patient Care
Reliant Medical Group – Framingham Pediatrics
Patient-Provider Communications
Reliant Medical Group – Milford Pediatrics
Pediatric Preventive Care
South Boston Community Health Center
Coordinating Patient Care
How Well Providers Know Their Patients
Office Staff Professional Excellence
Worcester Pediatrics
Coordinating Patient Care
Office Staff Professional Excellence