Massachusetts Primary Care Providers Are Investing More Time with Patients on Behavioral Health Concerns
(January, 2020) 
Results of MHQP's Annual Statewide Patient Experience Survey Inform the Debate Over the Governor's Proposal to Increase Spending in Primary Care and Behavioral Health.
Against the backdrop of a proposal from Governor Baker to increase the state's investment in primary care and behavioral health services, MHQP has released the results of its annual survey assessing patient experiences in primary care for the 15th year. This is the only publicly-reported statewide survey of patient experiences in Massachusetts.
The results show a favorable trend across the state in how frequently primary care providers ask their patients about behavioral health concerns (e.g., feeling sad, empty, depressed, worried or stressed). The average composite score, which is a weighted average of the responses to the survey questions in this category, has been steadily rising over the past several years, from 50.1% in 2013 to 73.8% in 2019: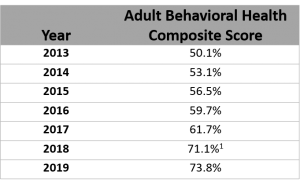 The 2019 results also show an even greater tendency for primary care providers to ask patients with self-identified chronic illnesses whether they have behavioral health concerns. While the average composite score for all adults in the survey was 73.8%, that score rose to 75.3% for patients with a chronic condition and 83.6% when that chronic condition was depression.
These results indicate that primary care providers in the state tend to know about their patients' underlying risk factors and ask behavioral health questions more frequently for patients who are at the highest risk for concerns in these areas.
"The trend toward a greater focus on behavioral health in primary care is very encouraging, particularly in light of how important behavioral health is for patients' overall health," says Barbra Rabson, MHQP's president and CEO. "We still have a long way to go before all patients are asked about their behavioral health risk factors. The Governor's proposal to invest more in both primary care and behavioral health services is a major step in the right direction."
The results of the survey are posted on www.HealthcareCompassMA.org, MHQP's consumer-facing website. This site provides detailed patient experience results for primary care offices throughout the state, offering consumers the ability to compare performance across practices. This unique resource can help patients and families find the primary care clinicians that best suit their needs.
About MHQP's Statewide Patient Experience Survey
MHQP's patient experience survey asks people what actually happened when they or their children received primary care services. The survey fielded in the spring of 2019 sampled commercially-insured patients from 771 adult and 315 pediatric primary care practices statewide, representing over 4,000 primary care providers. MHQP received over 60,000 responses to this survey. First conducted in 2005, the survey asks patients to rate the quality of certain doctor-patient interactions and other aspects of care using a nationally developed standard survey instrument.
The following organizations invested resources to support MHQP's 2019 Patient Experience Survey and sustain statewide transparency of patient experience in Massachusetts: Blue Cross Blue Shield of Massachusetts, Harvard Pilgrim Health Care, and Tufts Health Plan. In addition, the following provider organizations added their financial support: Affiliated Pediatric Practices, Lowell General PHO, Mount Auburn Cambridge IPA, New England Quality Care Alliance, Northeast PHO, Newton Wellesley PHO, Partners HealthCare System Inc., Steward Healthcare System, The Pediatric Physicians' Organization at Children's Hospital Boston, Tri-county Medical Associates, and UMass Memorial Healthcare.
A one-time modification to the survey questions may account for some of the increase between 2017 and 2018.