MHQP Announces Winners of 2019 Patient Experience Awards
(December 2019)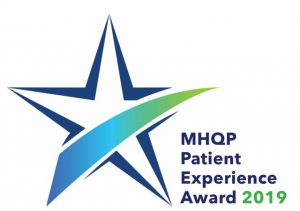 MHQP has announced the winners of the 2019 "MHQP Patient Experience Awards." MHQP introduced this award program last year as a way to recognize the primary care practices that perform highest on its annual Patient Experience Survey, the only statewide survey of patient experience in primary care in Massachusetts.
MHQP received over 60,000 responses to this annual survey of commercially-insured patients across the state. The results were used to identify the top overall performers in adult primary care and pediatrics, as well as the highest performers in nine performance categories:
Patient-Provider Communications
Coordinating Patient Care
How Well Providers Know Their Patients
Assessment of Patient Behavioral Health Issues
Ease of Access to Care
Empowering Patient Self Care
Office Staff Professional Excellence
Pediatric Preventative Care
Assessment of Child Development
Also, this year for the first time, MHQP is recognizing the practices that achieved the greatest improvement in a performance category in the past year.
"Primary care is the heart of healthcare in Massachusetts," said Barbra Rabson, MHQP's President and CEO. "The practices from all across the state recognized with this award have distinguished themselves where it matters most – in the experiences of their own patients. We are thrilled to congratulate each of them for their commitment to excellence and best-in-class patient experiences."
The award recipients were announced and celebrated at MHQP's joint Board and Council meeting on December 4, 2019. Congratulations to all of the winners listed below:
AWARD WINNERS – ADULT PRACTICES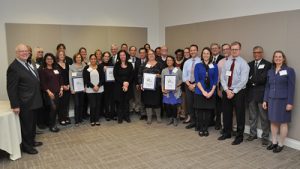 Top Overall Performers:
Baystate Medical Practices Northern Edge Adult and Pediatric Medicine
Top Overall Performer Among Massachusetts Adult Primary Care Practices
Grove Medical Associates, PC
Top Overall Performer Among Massachusetts Adult Primary Care Practices
Internists Associated
Top Overall Performer Among Massachusetts Adult Primary Care Practices
Newton Wellesley Primary Care, PC
Top Overall Performer Among Massachusetts Adult Primary Care Practices
Distinction in:
Coordinating Patient Care
Ease of Access to Care
Empowering Patient Self Care
Office Staff Professional Excellence
Newton Wellesley Physicians, Primary Care – Weston
Top Overall Performer Among Massachusetts Adult Primary Care Practices
Distinction in:
Office Staff Professional Excellence
Patient-Provider Communications
Personal Physicians Health Care, PC
Top Overall Performer Among Massachusetts Adult Primary Care Practices
Distinction in:
Coordinating Patient Care
Ease of Access to Care
How Well Providers Know Their Patients
Office Staff Professional Excellence
Distinction in Categories:
Brigham and Women's Advanced Primary Care Associates, South Huntington
Distinction in:
Assessment of Patient Behavioral Health Issues
Brigham and Women's at Newton Corner
Distinction in:
Assessment of Patient Behavioral Health Issues
Family Medicine University Benedict
Distinction in:
How Well Providers Know Their Patients
Hilltown Community Health Centers Inc.
Distinction in:
Empowering Patient Self Care
Lowney Medical Associates
Distinction in:
Ease of Access to Care
Mass General Revere HealthCare Center
Distinction in:
Patient-Provider Communications
Mystic Healthcare
Distinction in:
Patient-Provider Communications
Needham Wellesley Family Medicine PC
Distinction in:
Assessment of Patient Behavioral Health Issues
Reliant Medical Group – Lake Ave North
Distinction in:
How Well Providers Know Their Patients
Weston Primary Care
Distinction in:
Coordinating Patient Care
Empowering Patient Self Care
Most Improved:
Beth Israel Deaconess Healthcare – Crown Colony
Most Improved in:
Assessment of Patient Behavioral Health Issues
Beth Israel Deaconess Healthcare – Lexington
Most Improved in:
Empowering Patient Self Care
Family Medicine Associates, A Member of Lahey Health – South Hamilton
Most Improved in:
Assessment of Patient Behavioral Health Issues
Granite Medical
Most Improved in:
Assessment of Patient Behavioral Health Issues
Signature Medical Group – 545 Bedford St Bridgewater – Primary Care
Most Improved in:
Assessment of Patient Behavioral Health Issues
AWARD WINNERS – PEDIATRIC PRACTICES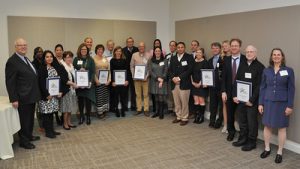 Top Overall Performers:
Belmont Cambridge Health Care, PC
Top Overall Performer Among Massachusetts Pediatric Primary Care Practices
Distinction in:
Coordinating Patient Care
Community Pediatrics of Milford
Top Overall Performer Among Massachusetts Pediatric Primary Care Practices
Distinction in:
Assessment of Child Development
Drs. Benjamin, Spingarn, Rottenberg, LLC
Top Overall Performer Among Massachusetts Pediatric Primary Care Practices
Reading Pediatric Associates PC
Top Overall Performer Among Massachusetts Pediatric Primary Care Practices
Distinction in:
Ease of Access to Care
Office Staff Professional Excellence
Wareham Pediatrics
Top Overall Performer Among Massachusetts Pediatric Primary Care Practices
Distinction in:
Empowering Patient Self Care
Distinction in Categories:
Bass River Pediatric Associates
Distinction in
Ease of Access to Care
Berkshire Pediatric Associates
Distinction in:
Pediatric Preventative Care
Burlington Pediatrics
Distinction in:
Pediatric Preventative Care
Children's Medical Office of North Andover
Distinction in:
Assessment of Child Development
Drum Hill Pediatrics, PLLC
Distinction in:
Ease of Access to Care
East Boston Neighborhood Health Center
Distinction in:
Empowering Patient Self Care
Most Improved in: Coordinating Patient Care
Fairview Pediatrics
Distinction in:
How Well Providers Know Their Patients
Patient-Provider Communications
Middleboro Pediatrics
Distinction in:
Pediatric Preventative Care
Pioneer Valley Pediatrics, Inc. – Longmeadow
Distinction in:
Coordinating Patient Care
Redwood Pediatric & Adolescent Medicine
Distinction in:
Patient-Provider Communications
Reliant Medical Group – Leominster
Distinction in:
Empowering Patient Self Care
Reliant Medical Group – Plantation Street
Distinction in:
Assessment of Child Development
South Boston Community Health Center
Distinction in:
Coordinating Patient Care
South End Community Health Center
Distinction in:
Patient-Provider Communications
SMG Framingham
Distinction in:
How Well Providers Know Their Patients
Most Improved in:
Assessment of Child Development
Tri County Pediatrics Associates
Distinction in:
How Well Providers Know Their Patients
Office Staff Professional Excellence
Worcester Pediatrics, PC
Distinction in:
Office Staff Professional Excellence
Most Improved:
Children's Hospital – Primary Care at Longwood
Most Improved in:
Assessment of Child Development
Crown Colony Pediatrics
Most Improved in:
Assessment of Child Development
Tufts Medical Center Pediatrics
Most Improved in:
Assessment of Child Development