MHQP Releases Results of "Together for Better Telehealth" Survey, Asks for Further Participation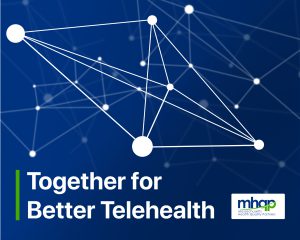 (September 2020)
Several months ago, as the COVID pandemic began to take hold and most interactions between providers and patients moved to computer screens and telephones, MHQP launched an initiative we call "Together for Better Telehealth." It's an effort to help clinicians share what they are learning from their telehealth experiences to help the whole profession adapt to this new way of providing care.
In July, we sent a pilot survey to a small network of clinicians. The 130 responses we received from clinicians across a variety of specialties contained many interesting insights and revealed wide variations in the telehealth experiences of healthcare providers across the state.
In August, we built upon the results of the pilot survey with a "Wave 2" survey through which we sought practical solutions, useful ideas, tips and tricks for how to make telehealth better in the following specific areas:
Choosing Visit Mode
Taking Patient History
Examining Patients Virtually
Health Equity
Clinician Fatigue
194 clinicians responded to this survey and, once again, the feedback we received was extremely helpful and insightful. We've posted the results of both the pilot survey and the Wave 2 survey in an easy-to-digest format HERE.
Now, we are continuing this important effort with a "Wave 3" survey focused on other critical topics, specifically:
Technological Challenges
Involvement of the Team
Time Effectiveness
Privacy
Language Barriers
If you are a clinician, we welcome you to take this survey HERE.
As quickly as possible, we will share the insights and ideas from this new survey in the same accessible format, so that we can continue to build this evolving knowledge base of how to make telehealth better together.
If you are not a clinician, we invite you to please share this post with your clinical colleagues so they can participate.