MHQP Welcomes James Roosevelt, Jr., as New Board Chair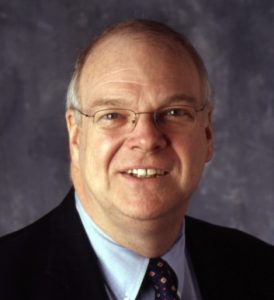 (December 2017)
MHQP is delighted to announce that the MHQP Board of Directors has elected James Roosevelt, Jr., as its new Chair. Mr. Roosevelt succeeds Meredith Rosenthal, who served as Board Chair for five years and will be stepping down from this role on the Board.
"I am extremely grateful for Meredith's outstanding leadership and invaluable contributions to MHQP over the past five years." said Barbra Rabson, MHQP's President and CEO. "Jim is the ideal leader to carry Meredith's legacy forward and I am thrilled he has agreed to take this position."
Read parting thoughts from Meredith Rosenthal
Read incoming thoughts from James Roosevelt, Jr.
One of Rosenthal's most significant accomplishments as MHQP Board Chair was a restructuring of the organization's governance, which now includes equal membership from each of three councils representing MHQP's key stakeholder groups – providers, payer and patients – as well as independent board members with specific expertise. This structure puts MHQP in a unique position to be able to bring all perspectives to the table to find breakthrough solutions to the many problems and challenges facing healthcare today.
Roosevelt is currently counsel in the health care practice at Verrill Dana. His previous experience lines up well with MHQP's multi-sectorial philosophy, as he has played a wide variety of roles throughout his long and illustrious career – from CEO of Tufts Health Plan; partner in the Health Care Practice Group of Choate, Hall and Stewart in Boston; Chairman of the Massachusetts Association of Health Plans; Co-Chair of the Board of Directors of the Tufts Health Care Institute; Chairman of the board of trustees of the Massachusetts Hospital Association; and Chairman of the board of trustees at Mount Auburn Hospital. He also co-chaired the Rhode Island Governor's Healthcare Leaders Task Force on Health Care Cost Growth and recently co-chaired the Massachusetts Health and Hospital Association's work group on access to behavioral health care.
"It's a very exciting time to be taking this role at MHQP," said Roosevelt. "Over the last couple of decades, we have learned that healthcare does not succeed in silos. I've always been impressed with the leadership that MHQP has shown and thereby made Massachusetts an example of collaboration in achieving quality in healthcare – or I should say, continuing to pursue quality in healthcare, because it's never a static achievement."
"Jim's enormous breadth of first-hand knowledge and experience across all healthcare stakeholder groups made him the obvious choice for our next Board Chair," explained Rabson. "We are all looking forward to working with him."
The transition will take effect on January 1, 2018.