Trends in Patient Experience in Massachusetts Primary Care
January 2018
Patient experiences for commercially-insured patients in primary care in Massachusetts continued to improve in 2017, despite the backdrop of increased out-of-pocket expenses and significant uncertainty in the healthcare system. This is one of the key findings from the statewide patient experience survey MHQP conducted for the 13th year in 2017.
As shown in the following compilation charts, the past three years have seen increases across all topic areas explored in the survey for both adult and pediatric care. This includes communication, integration of care, knowledge of patient, adult behavioral health, organizational access, self-management support, office staff, pediatric preventive care, child development, and willingness to recommend.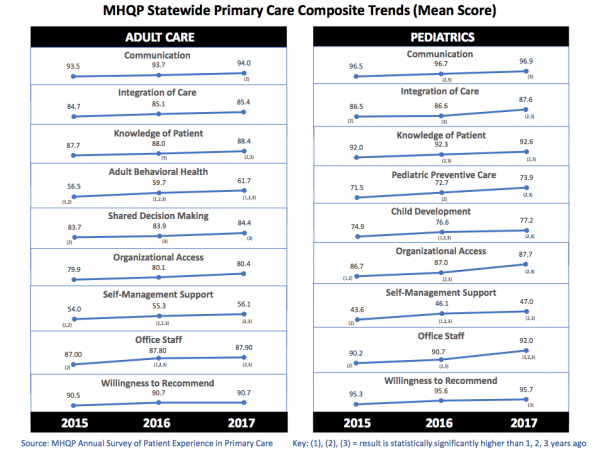 (Click here or on the above thumbnail to view the chart.)
Providers continued to score highest in the area of communication, with a mean composite score of 94 out of 100 for the last three years. Other strong areas included a patient's willingness to recommend a provider (91), provider knowledge of a patient (88) and office staff performance (88).
The strongest steady gains in recent years have been made in how often primary care providers ask adult patients questions related to behavioral health. Behavioral health has become increasingly important for adult and pediatric primary care practices, given current trends in depression, suicide, substance abuse and other behavioral health concerns, and the U.S. Preventive Services Task Force recently added increased emphasis in this area to its primary care guidelines. MHQP added behavioral health to the patient experience survey in 2013, with questions about whether or not primary care providers asked their patients about feeling depressed, feeling stressed, or experiencing problems with alcohol, drugs, or a mental or emotional illness. The mean composite score in this category for all adult practices has increased from 50.8 out of a potential 100 points in 2013 to 61.7 in 2017, a statistically significant increase. One question in particular has seen the largest positive gain: "In the last 12 months, did anyone in this provider's office ask you if there was a period of time when you felt sad, empty, or depressed?" The median score for this question has increased steadily by more than 16 points in three years:
Year          Median Score     Change vs. Previous Year
2014                 54.5                             —
2015                 61.6                          +7.1
2016                 67.3                          +5.7
2017                 70.9                          +3.6