MHQP Announces New Patient Experience Awards for Primary Care Practices
(November 2018)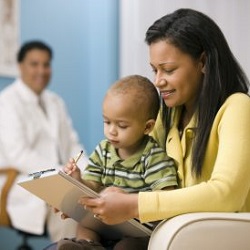 This year for the first time, MHQP will be recognizing the primary care practices that rank highest on its annual statewide Patient Experience Survey through a new awards program called the "MHQP Patient Experience Awards."
MHQP conducts the only statewide survey in Massachusetts of patients' experiences in primary care. Each year, the results of this survey will be used to identify the top performing primary care practices. Awards will be given to the top three overall performers, as well as to the top three performers in each of these categories:
– Integration of Care
– Knowledge of Patient Health
– Adult Behavioral Health
– Shared Decision Making
– Organizational Access
– Self-Management Support
– Office Staff
– Willingness to Recommend
– Pediatric Preventive Care
– Child Development
The winners will be recognized on MHQP's organizational website (www.MHQP.org) and consumer-facing data site (www.HealthcareCompassMA.org), given an award plaque and decal to proudly display at their site, and provided tools to help announce this award to their own key audiences. MHQP will also be sharing the best practice ideas from these high performers on its website so that other practices can learn from their successes.
"Primary care is the heart of healthcare in Massachusetts," said Barbra Rabson, MHQP's President and CEO. "The practices that will be recognized with this award have distinguished themselves where it matters most – in the eyes of their own patients. We look forward to congratulating each of them for their commitment to excellence and best-in-class patient experiences."
The award recipients will be announced and celebrated at MHQP's joint Board and Council meeting on November 26, 2018.